WE ARE NOIR TRIBE
We are a Brooklyn-based design and storytelling studio that creates video content, brand identities and online experiences for brands and agencies that quicken the pulse and dilate the pupils.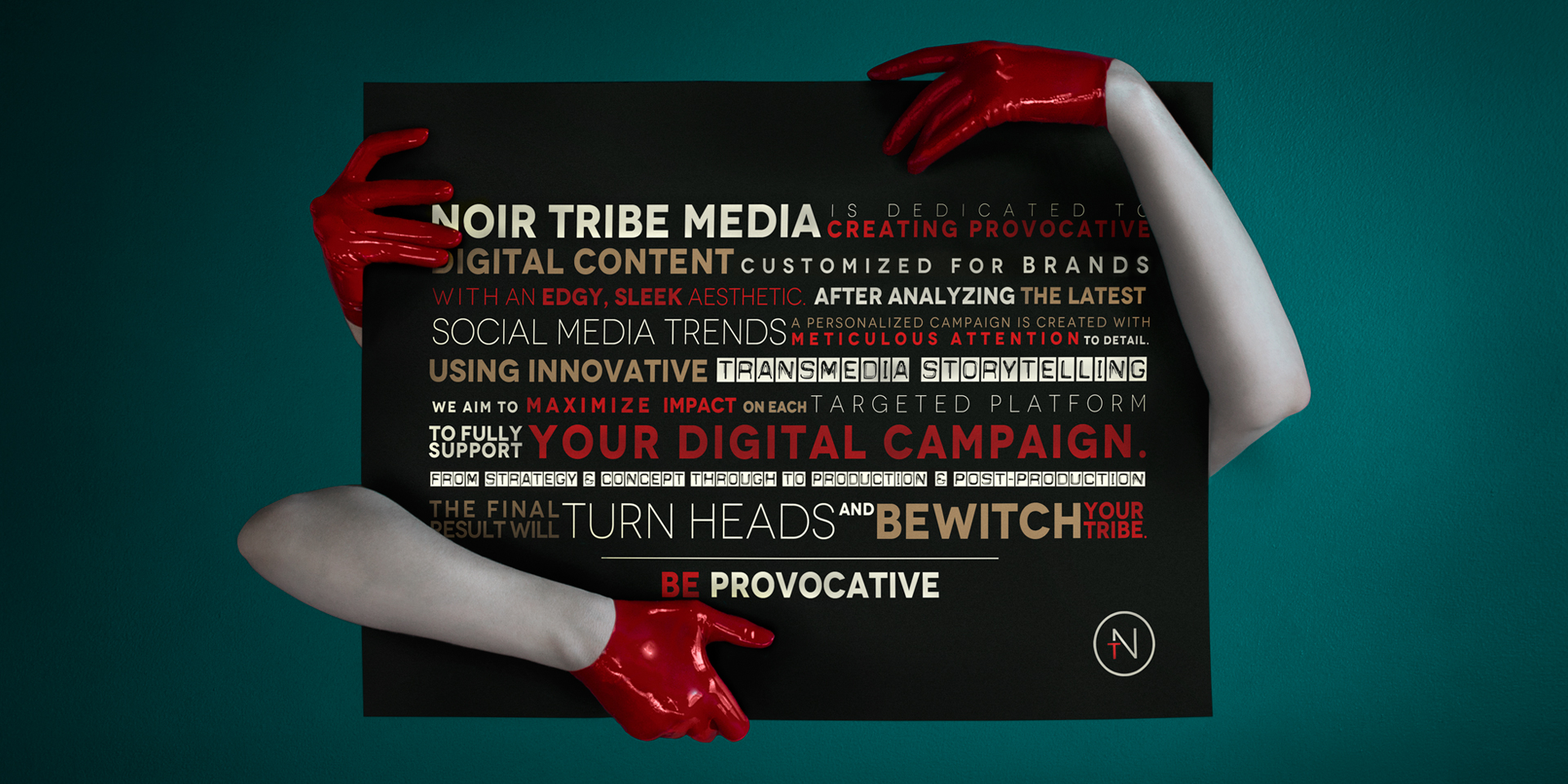 Services
Everyone has a dark side they sometimes try to hide . . . I guess that makes it more attractive.
From Day One, we initiate dialogue and interviews with the key members of your team, map your footing in the competitive landscape, research the psychographics of your audience and trend-spot the latest modes of content and interaction enticing their attention online. We extract and distill your ethos – the foundational values that give your brand its perspective – 
and build an immersive narrative that extends across brand identity, logo, typography, web, design, video, copywriting and digital content. Like dusting off hieroglyphics, we construct the visual cues that seduce our fantasies and wake our most primal natures so that your audience cannot help but have one single thought . . . take us with you.
A falling star fell from your heart and landed in my eyes.
With a vast arsenal of expertise in digital photography, typography, color, illustration and motion graphics, we deliver compositions for print and web that freeze time, shatter glass and blur surroundings. Slick and arresting, with no tolerance for the generic, we are fearless down to the last pixel. 
We craft print layouts, web interfaces and motion graphics that are not only seen, but felt. And no image leaves our hands without a precise calibration of color correction, touch-up, and enhancement.
One person's craziness is another person's reality.
To turn off the lights and truly immerse, we produce kinetic films that evoke the sensation of being beckoned into the woods late at night, escorted past the velvet rope or led down the cobblestone steps of a back alleyway and through the red door . . . however far you're willing to go. Our seasoned production team shoots and edits both short and long form films with high-caliber cinematic, audio and post-production expertise. 
Building arcs of drama and intrigue, vibrant conflict that balances on the razor's edge of peril, our films showcase ambient worlds of style and allure, indulgent to the final frame. Projects include a documentary for fashion designer Ricardo Seco, recently nominated for four International Fashion Film Awards; behind-the-scenes films for Elle, Harper's Bazaar & Nylon Magazine; and web series The Polite Woman (in production).
I've always loved the idea of not being what people expect me to be.
Interaction is our medium. We click, we scroll, we open, we watch, we download, we share. By extending the language of your brand identity online, our dynamic websites flow effortlessly from page to page and responsively adapt across desktop, mobile and tablet experiences for optimal viewing. Whether a simple placeholder or a full web platform with significant depths,
we ensure your story is told with artistry and rigorous execution from the moment it loads on screen, enabling discovery and spontaneity all along the way. Built to be controlled and updated by your own direction upon delivery, we always integrate the most accessible and intuitive content-management systems so your web experiences can grow alongside your business.
Making Fashion Immortal: A Case Study
Visit Us
Bushwick, Brooklyn