Let's Get Ethetical...

Ethics and Aesthetics have been at odds for quite a while. Gothicism paired art with illness and Expressionism divorced physical and mental balance from art. And glorious, self-interested Capitalism has contributed to a long list of human tragedies because of its emphasis on growth over sustainability.
But the Ancient Greeks believed in a philosophy of a bodily, moral and spiritual whole, and described this connection as kalokagathia. The Greeks stressed the importance of harmony and balance in every human expression, not to be seen again until Contemporary art reintroduced the crucial marriage of aesthetics and society's well-being.
Noir Tribe believes Ethetics (admittedly a word we made up), describes the growing movement of Ethical Fashion and Social Responsibility. Just like with fast food, consumers are becoming aware of the massive negative environmental, societal, and health impacts for which fast fashion is responsible.
Ethical consumers don't want to feel responsible for the factory collapses, farmers dying decades early from cancer, or toxic cast offs polluting landfills or being sent back to 3rd world countries to be sold back to the people who made them, who have children with severe disabilities due to dye-polluted water sources. As environmental journalist Lucy Siegle puts it: "Fast Fashion isn't free. Someone somewhere is paying for it."
Anyone that has investigated these atrocities (or has been bombarded by my fast fashion rants) desires and deserves a return to Ethetics, where products are made fairly, workers are paid a living wage and don't have to resort to prostitution to survive, so they can keep their children at home instead of sending them away to live with remote relatives or laying them on a factory floor, and can work in safe environments free from dangerous chemicals or the threat of collapse. Ultimately the harmony of ethics and aesthetics exists in products causing the least damage to the planet possible while still giving the consumer an aesthetic satisfaction. Because ultimately, the critical part of this equation is Aesthetic. Without style, clothes can't be considered fashion-contenders.
OUR ETHETICAL ORIGIN STORY
In 2014 Luis and I were invited to shoot a short fashion documentary in Mexico. Always up for an adventure, the project was a no brainer. But what we could have never predicted was that this project was about to change our lives.
We spent three days in the Sierra Madre with the remote tribe of mostly women and children, known as the Wixárikas. They invited us to observe their traditional beading and embroidery techniques. They shared the meaning behind important symbols, such as the eagle, the deer, and the peyote. We observed their figurative thirst for education and experienced first hand their literal thirst with a complete shortage of water.
Peyote Dreams has gone on to play film festivals around the world and has collected nominations and awards. The awards have been, well…rewarding, no doubt. But more rewarding is what happened immediately when we wrapped production.
We immediately felt the magnitude of telling this story and stories like this. The world needs to see the faces and hands that makes their clothes. These people need their stories told. And we need to be telling them.
A wonderful side effect of the festival circuit and the Instagram campaign was our discovery of the hashtag #fashionresponsibility. This connected us with companies we didn't know existed, and little by little our awareness of the ethical fashion movement grew.
We started learning about different ways to measure an ethical brand, such as The Integrity Index and the Butterfly Mark. And then we saw The True Cost by Andrew Morgan.
And cried. And cried. And cried.
Since we took the red pill, we haven't been able to look at the fashion industry the same way. Hell, we haven't been able to look at the world the same. No product is faceless anymore. All we can imagine now is how many people have touched it, and their living conditions. And we see the sea of fast fashion labels in our closets and know we made a vote with our purchases.
So, we've set out to work with ethical designers, brands, and organizations to bring exposure to those that are bringing ethics and aesthetics together. Our first two films premiered online at Vogue Italia.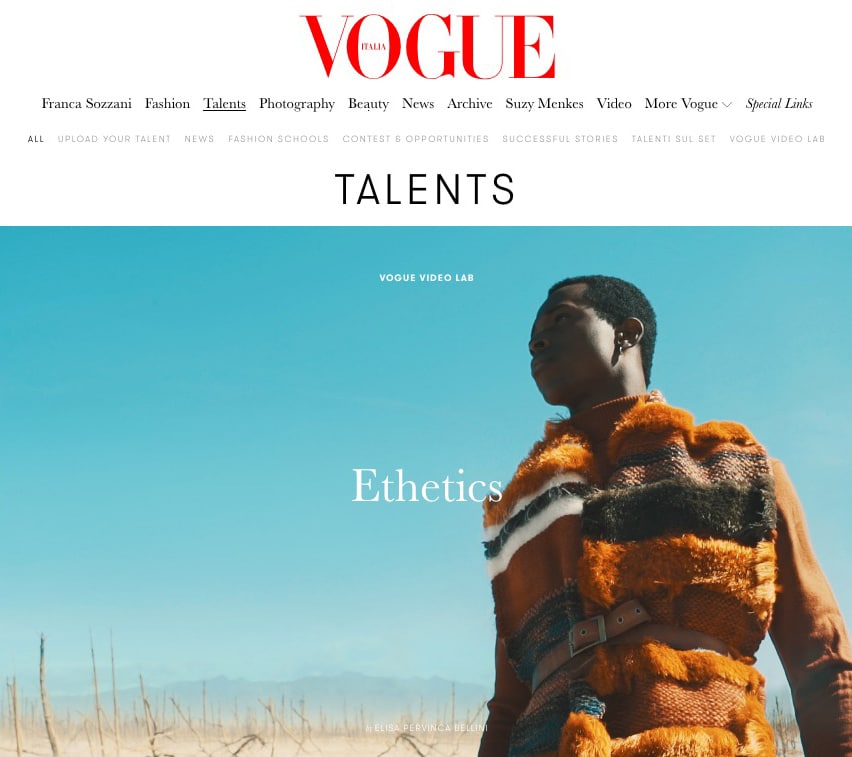 And finally, we are thrilled to present the trailer for our ethical fashion series ETHETICS (ethics+aesthetics).
Shot in South Africa, episodes 1 and 2 premiered at the BAFTA-Qualifying Aesthetica Short Film Festival. The episodes are official selections at New York Fashion Film Festival, Mexico Fashion Film Festival, and Mercedes-Benz Bokeh South Africa Fashion Film Festival, where they have nominations for Best Documentary, Best Cinematography, and Best Fashion.
We are partnering with the United Nation's Ethical Fashion Initiative to develop additional episodes in Western Africa.
Read the Press Release here.
CREATE AN ETHETICAL REVOLUTION
We at Noir Tribe want to work with ethical and transparent brands. We want to partner with organizations that are making ethical capitalism work. Let's tell beautiful, effective stories that provoke the eco-conscious and eco-curious. Let's create fashion films that compete with fast fashion brands, to prove that ethical fashion isn't a cause to donate to, but full of stylish brands worth investing in.